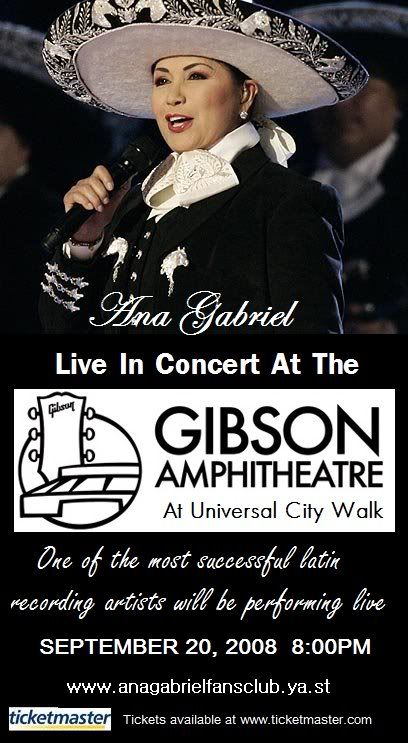 Mexican singer Ana Gabriel reached the stage for the first time at the age of six, singing José Alfredo Jiménez's "Regalo A Dios," a sweet experience the artist hardly forgets. Daughter of Raúl Araújo and Japanese descendant Isabel Young, Ana Gabriel was always supported by her parents. At the age of 15, the enthusiastic teenager moved to Tijuana to study accountancy and pursue a singing career, having the opportunity to record her first song called "Comprendeme" in 1977. Later, Ana Gabriel came in second place at a local festival known as Valores Juveniles (Youthful Values), after singing "No Me Lastimes Mas." In 1986, Ana Gabriel represented Mexico at OTI's Festival, having her breakthrough two years later after releasing Tierra De Nadie, which included her first smash, a song called "Simplemente Amigos."
During her long career, she has hits in three different genres of music: rock en español, Latin Pop, and rancheras. In 2006 she received the Lo Nuestro award's "Premio a la Excelencia" (Excelence Award).
Although a recent music collection promotes her and Juan Gabriel (another Mexican singer) as "Los Gabriel" (The Gabriels), they are not related to each other.
---
Review of Ana Gabriel in Santiago, Chile
Simply awesome three uninterrupted hours concert of our Latin Music Diva Ana Gabriel in Arena Santiago, the newest and state of the art venue in Santiago, Chile.
The concert begun at 9pm sharp. The Arena full of ecstatic fans, about 10.000 people, gathered to see their idol and expecting not only to sing her songs, but to touch her or immortalize the moment with a picture.
The moment she appeared on stage, the roar of the Arena just couldn't stop.

The sound and lights were perfect (great venue for concerts).
She played her older hits as well as stuff from her new album Dos amores un amante.

We just couldn't have enough of her.
What a singer... her voice is intact and preserve that pure style people love so much. What an entertainer! She went out into the crowd to get close to everyone!
She knows how move people and make them go nuts!
Best show I've seen in a long time.
Log in to www.arenasantiago.cl
Carolina
---
The great singer-songwriter Ana Gabriel officially kicked off her professional career in 1974. Gaining a reputation as a world class artist. Ana Gabriel has continued giving audiences music that is emotionally honest, vocals that are filled ... with sentiment and feeling and lyrics that tell unforgettable stories. Over the years, Ana Gabriel has won a huge following among lovers of sincere, honest pop writing with a quintessential Mexican sensivitiy. Her new studio album title 'Arpegios De Amor' include brand new tracks that will continue to capture the hearts of her dedicated fan base.
---
Latin pop singer Ana Gabriel is as well known for her ballads as she is for her infectious dance-pop, and those ballads are showcased on the compilation CANCIONES DE AMOR. Gabriel specializes in slickly produced, radio-ready love songs that ... are heavy on keys and majestic choruses, and it is exactly this type of accessible fare, delivered in the singer's romantic/dramatic style, that has made Gabriel so popular in Mexico and abroad. Fans of the vocalist's love songs, and of Latin ballads in general, will want to check this one out.
---
With DOS AMORES UN AMANTE, Mexican pop star Ana Gabriel offers up a typically eclectic set. Songs range from the surging club-ready track "Olvidate De Ellos" to the spare, traditionally minded song "La Farsante" to the gentle ballad "Sin Tu ... Amor." The album's consistent thread, of course, is Gabriel's passionate, plaintive voice, which is equally as suited for dance-floor workouts as for light, lilting folk numbers. Those particularly drawn to the singer's less poppy material should seek out 2004's appropriately titled TRADICIONAL, while listeners looking for the breadth of her considerable talent can find it on this entertaining and diverse outing.
---
Mexico's reigning vocal diva returns with 2005's HISTORIA DE UNA REINA. Known to dabble in everything from ranchera to pop to traditional Mexican folk, Gabriel's trademark is her unique, textured voice and her ever-impassioned delivery. HISTORIA, ... of course, showcases that voice to splendid effect, and Gabriel continues to sing each song as though it might be her last. Fortunately for her legions of fans, this album of stirring, dramatic performances bears repeated listening, so those "last songs" can go on and on.
---
Unlike most Mexican pop stars whose fans holler and throw underwear at them in a live setting, Ana Gabriel has a devoted concert audience who actually sit down and listen. The presence of respectful fans is one of the main reasons why going ... to see Gabriel live is such an enjoyable experience. The crowd listens in silence, entranced by the singer's raspy voice, and her combination of self-penned ranchera and pop material. Fittingly, this two-disc set recorded live at Mexico's Plaza de Toros is a wonderful introduction to the diva's artistry.

A thoughtful performer, Gabriel has taken the opportunity of a mammoth concert recording to sum up her career, her successes, and her influences. The program includes two songs by prodigious singer/songwriter Juan Gabriel, who has been covered by Ana numerous times. The textures of "Hasta Que te Conoci" have been changed so as to better showcase Ana's distinctive voice. The singer also pays tribute to the quintessential ranchera composer, Jose Alfredo Jimenez, with a rousing version of his classic "Me Equivoque Contigo." Thankfully, Gabriel doesn't forget to include her own material. The nine-minute "Popurri Ranchero" includes four of her traditional compositions all rolled into one spectacular segment.
ANA GABRIEL
Eternamente
PRODUCER: Ernesto Abrego
Sony Discos 83817
Gabriel's tastefully arranged collection of mostly Latin American classics offers a fresh alternative to mediocre, like-minded projects currently flooding the Hispanic market. In addition, the raspy-voiced Gabriel's always-urgent delivery is expertly complemented by soothing harmonies from backing vocalists Anali and Carlos Cabral, the latter of whom also skillfully plays acoustic guitar and requinto. Any midtempo romantic track could qualify as a hit, including the pair of Gabriel-penned entries: "Por Ti" and "Mas Que Un Simple Amor (Te Quieres Enganar)."